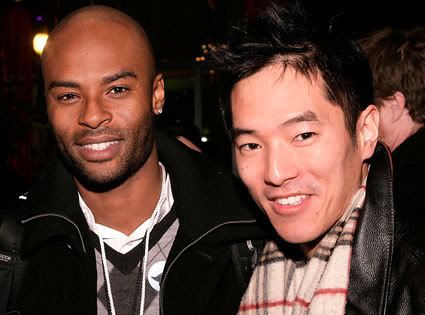 The sudden and tragic loss of Heath Ledger is on the minds of many here in Park City.
As our friend Marc Malkin reports on E!'s
Planet Gossip
,
Half-Life
star Lee Marks (left) choked up when talking about the late actor at the Sundance premiere of his film. Marks says it was Ledger's role in
Brokeback Mountain
that helped inspire his own work in
Half-Life
, the story of a romance between an Asian American male and an African American male.
"I always told myself that when I was able to play a gay character, I'd feel that I had arrived as an actor," Marks said while fighting back tears. "I read an article about how Heath developed his character and what the character felt. I watched
Brokeback Mountain
about 15 times."
Co-star Leonardo Nam (above right), who grew up in Sydney, Australia, said he and Ledger hung out in the same social circle and shared an acting coach. "He was such a brave actor by the way he directed his own career, making choices such as
Brokeback
and now doing the
Batman
movie," Nam said. "It's dangerous to reprise a role that has already been done by Jack Nicholson. It was incredible to choose that."