Thursday, February 7, 2008
Today is the Lunar New Year. In recognition, we've released a
Be an Ally & a Friend
PSA from our good friend Rex Lee from
Entourage
.
Posted by

Damon Romine
at 6:22 AM
No comments:


Wednesday, February 6, 2008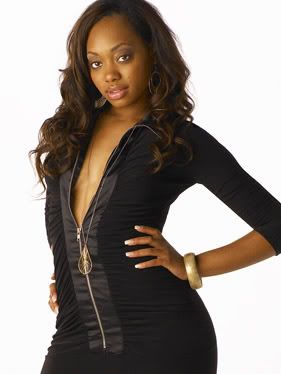 The Pussycat Dolls are back on The CW for another round of auditions, and network reps confirm that out performer Keisha is one of the 15 finalists competing this season. Unlike the last go-round, where contestants were vying to join the Dolls, this time they are looking to stay in the game for 10 episodes until the last three standing form a new trio named Girlicious, receiving a contract with Geffen Records.
According to Keisha's official online
profile
, she's a 22-year-old from North Hollywood, CA, who admires Beyonce and Aaliyah.
Pussycat Dolls Present: Girlicious
premieres Feb 18 at 9PM ET/PT, with encores Wednesdays at 9PM ET/PT following new episodes of
America's Next Top Model
.
Incidentally, last season's winner, Asia Nitollano, a former New York Knicks dance team member from Mt. Vernon, NY, quit after she was crowned the winner, choosing to pursue a solo career instead.
Posted by

Damon Romine
at 9:32 PM
No comments:


Monday, February 4, 2008
Our friends at
CommercialCloset.org
have put together their picks of Superbowl ads which feature LGBT content. Or do they? Postings on YouTube show just how divided people are on Commercial Closet's choices and whether much of the content could even be considered remotely gay. In one spot, Justin Timberlake's pal, SNL's Andy Sanberg, briefly plays himself as a Justin stalker in a Britney wig. Gay? Trans? C, none of the above?
What's clear is that there isn't really a Snickers ad in the bunch. After last year's male liplock=violence theme led to the entire campaign being scrapped, advertisers seemed to step cautiously into any territory that could be considered gay, or specifically, violence against gays.
But
AfterElton.com
's Michael Jensen, who jokes that his hat may have been screwed on too tight during the game, interpreted gay violence in two ads: One, a Bridgestone spot where a driver seems to have his eyes set on running down Richard Simmons (who is not out and has said in the past he's not gay). The second is a Fox
Prison Break
promo where the scumbag character of T-Bag (a sexual predator both in and out of prison, leading Jensen to label him bisexual) is flattened by players on the Superbowl field. If Jensen was looking to engage his readers it worked; by days end many readers posted that yes, his hat probably was screwed on too tight.
But why read what the Monday Morning Quarterbacks had to say when you can watch and decide for yourself here:
Wouldn't it be nice if Orbitz just aired one of its gay-inclusive ads during the Superbowl? Now
that
would be progress.
Posted by

Damon Romine
at 9:27 PM
2 comments: