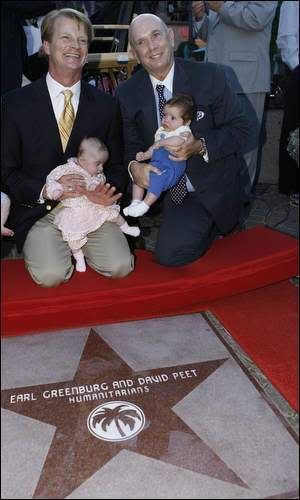 I am in Palm Springs for the weekend where memorial
tributes
are pouring in for local out philanthropist Earl Greenburg, 61, who died Friday after a battle with melanoma. His family, including his life partner, David Peet, was by his side. The couple have a young daughter, Kathryn Claire Peet-Greenburg.
Greenburg (far right) is remembered as a man who sustained Sonny Bono's vision of turning Palm Springs and the Palm Springs International Film Festival into the "Cannes of the West."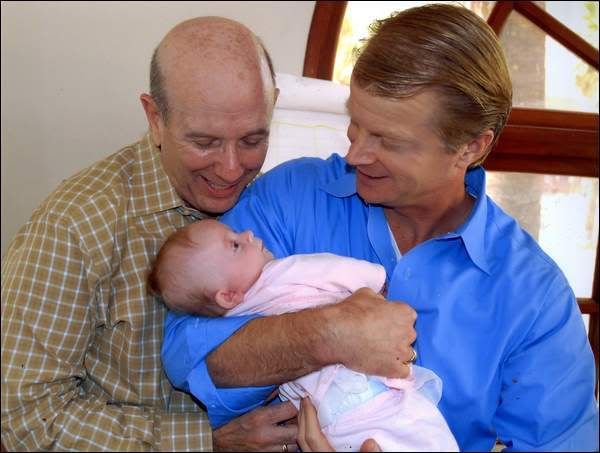 As chairman of the festival's board, Greenburg built the festival to be the second largest in the country. Out Palm Springs Mayor Steve Pougnet credited Greenburg with "catapulting" the film festival into a "first-class event that earned Palm Springs world prominence."
A former NBC and Home Shopping Network exec, Greenburg, is also credited for being a leader in the local fight against HIV/AIDS. His first partner, Rick Weiss, died in 1994, inspiring Greenburg to create the annual Rick Weiss Humanitarian Awards gala to raise money for local charities. The event is scheduled for April 12.
Greenburg and his partner Peet received a star on the Palm Springs Walk of Stars on March 31. They were the first gay couple to receive such an honor. Today, the sidewalk is filled with bouquets of flowers.
Palm Springs resident and music legend Barry Manilow described Greenburg as "one of the pillars of our community."