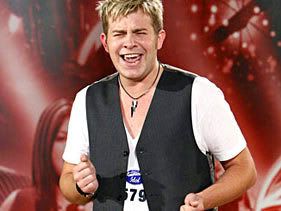 It's season seven of
American Idol
and until now, no contestants have spoken openly about being gay while on the show. This has probably been a combination of careful editing, producers instructions or the contestants own fear of being judged unfairly. But that all changed last week when the show held auditions in Omaha, Nebraska. Of all places, our gay shining star came from the smallest of small places, Charlotte, Iowa.
23-year-old Leo Marlowe was the final contestant to try out on Tuesday, and he had us at hello when one of the first things out of his mouth was "My mom always said she raised the perfect homecoming queen. Too bad it wasn't one of her daughters." With the three judges busting a gut, there was no way producers could have edited out that gem. Well they could of if Leo had sucked, but he didn't as he performed "A Song For You" by Donny Hathaway.
Simon called him a good, honest kid; Paula said he's a "touchdown!" (and she wants to take him home); and Randy said he was "rockin' the bells." Not sure what that means, but whatever, all three unanimously put Leo on through to Hollywood. We'll be watching the next round with fingers crossed that Leo continues to be refreshingly honest — and keeps rockin' the bells!
Check out Leo's performance
here
and see the thrilled reaction from his family and friends (aka the population of Charlotte, Iowa).