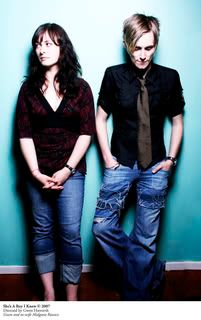 The Palm Springs International Film Festival rang in the new year with a splash and a large dash of star power. The festival now proudly bills itself as the largest U.S. film festival second only to Sundance. The biggest difference, however, is the audience. While Sundance is heavily attended by filmmakers, would-be filmmakers, distributors and international press, the audiences in P.S. are made up of locals, true film lovers and those looking to check out offerings that rarely screen in the U.S. or make it to the multi-plex.
On Saturday, audiences were in for a treat with the Canadian documentary
She's a Boy I Knew
. From director Gwen Haworth (far right), the film is a first-person account of Haworth's transition from straight male to gay female. Blessed with two generations worth of archival footage, Haworth has made a 70-minute trans-primer that is part genealogical record, part family drama and part love story — with comedic observations and a handful of animated sequences to lighten the mood.
With revealing and emotional interviews with her two sisters, parents and ex-wife Malgosia (above left), Haworth weaves a tale of a family who mourned the loss of Steven and eventually came to embrace Gwen. The film doesn't shy away from details (or video) of Haworth's sexual reassignment surgery and the high price — financial, physical and emotional — the director has paid.
The doc won the Audience Award for Most Popular Canadian Film at the Vancouver International Film Festival, as well as the fest's Women in Film and Television Artistic Merit Award. "That was extremely gratifying," says Haworth about being recognized by a jury of her peers, female filmmakers.
Haworth was on hand in P.S. for the U.S. premiere of her film, missing the last-minute wedding of her lesbian sister in the process. Hopefully the trip was worth it and the exposure of
She's a Boy I Knew
at the festival will lead to a television deal because this is one film that deserves a much larger audience.