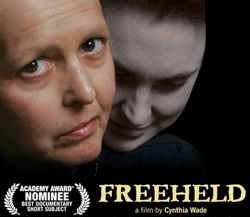 The Gay & Lesbian Alliance Against Defamation (GLAAD) congratulates director-producer Cynthia Wade and producer Vanessa Roth on their Oscar® win for the short documentary,
Freeheld
. The award was presented this evening at the 80th Annual Academy Awards®, held at the Kodak Theater in Los Angeles.
Freeheld
documents the 2006 struggle of New Jersey Detective Lt. Laurel Hester in her effort to transfer her pension to her domestic partner, Stacie Andree, in the months leading up to Hester's death. With less than six months to live as cancer spread to her brain, Hester battled the Ocean County Freeholders, the locally elected officials, to give to Stacie the security for her partner that married couples receive automatically. The film captures both the very public and urgent dispute with the Freeholders, as well as the couple's intensely private struggle as they come to terms with Hester's terminal illness.
"
Freeheld
is such a poignant and powerful documentary, and we are proud to count Cynthia as a strong ally to the gay community," says GLAAD President Neil G. Giuliano. "We are so thankful the film – and Laurel Hester's memory – have been honored tonight with a prestigious and well-deserved Academy Award®."